Home
Welcome to Battle Jump's home page. You'll find here Battle Jump's latest releases, and more.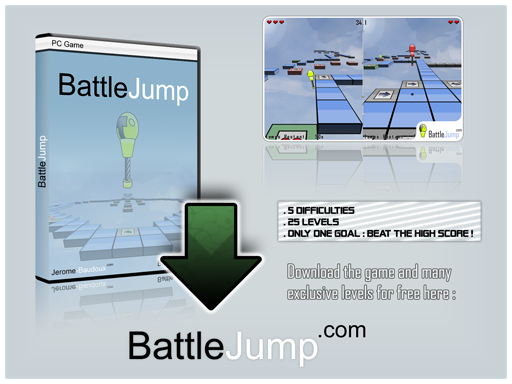 Battle Jump is a free 3D Platform game using OpenGL in order to be available on Windows, Mac OS and Linux.
We hope that you will enjoy it.

Do not hesitate to share with us your comments, and join our facebook page.
Jérôme Baudoux
Battle Jump Contest - results
The Battle Jump's 1st contest is now over.
Only 3 people manage to finish it, so we can consider that the level was too difficult.

1 st Doublevil with 80.9 s
2 nd Oubli4 with 86.8 s
3 rd Leonsulivan with 123.5 s
Battle Jump Contest
Hello every one, I know that you have many unused time due to holiday. That's why I suggest you to participate to the Battle Jump's first contest.

The rules are simples, all you've got to do is download this level, and send your scores before The 20th of August.

To send your scores, you have to be registered and authorize Battle Jump to send scores on the BattleJumpLauncher.

Good Luck.
Battle Jump on facebook
You can now become a fan of Battle Jump on facebook.



Battle Jump [.com] - v 0.7
Battle Jump has its own website with its own domain name.
But that's not all the changes, see there what's new :

You can send your score on every level
The game has been optimised
You can set the volume in the game
You can now search a level on the website
Battle Jump - v 0.6
After few months without update, Battle jump is here with a brain new version!

We can separate two updates :

The web site

You don't need to log-in everytime you come to the site
You can share your levels on digg, google, facebook ...
A new level viewer is now on the site, it permits to zoom on your levels.

The game has been modified too.


Some bugs are corrected
You can now send your scores directly to the site in order to compare yourself with other battle jump players!
Battle Jump - v0.5
New features :
9 new blocs.
Count-down when the times under 10s.
16/9 and 5/4 resolutions.
5 new levels in a new difficulty.
Hot key to restart the level.
You can now run a level from the editor.
Some bugs are fixed.
Website update
The website has been updated, there are still no cookies but you can the list of changes:
The Wesite has now a stats part
The number of downloads and views of a level are comptabilized.
You can sort the levels by rate.
Battle Jump - v0.4.5
It is now possible to run an Unofficial Level via the game.
You can also train yourself in all the games level in the Signgle Map mode
New web site
Battle Jump has a new web site!

You can see that this web site is not finished yet, however it's already possible to share your battle jump levels with the community.

To share your levels you must create a free account.

Downloading member's levels doesn't require to be registered.

Battle Jump - v 0.4
Multiples Environments.
The level structure has been updated.
You can restart the current level by the pause menu.
If you lose in the first level of a difficulty the chronometer restart.