Home
Welcome to Battle Jump's home page. You'll find here Battle Jump's latest releases, and more.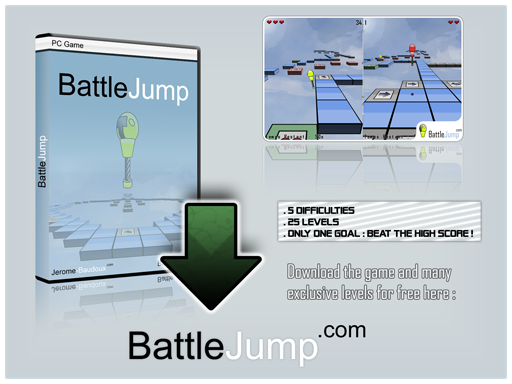 Battle Jump is a free 3D Platform game using OpenGL in order to be available on Windows, Mac OS and Linux.
We hope that you will enjoy it.

Do not hesitate to share with us your comments, and join our facebook page.
Jérôme Baudoux
Battle Jump - v 0.3.0 - Level Editor
Here's a new version with new features :

A level editor is now available.
A level difficulty is now only available if you finished the easier difficulty.
The game is now available on Linux.
A new level difficulty is now available.
Battle Jump - v 0.2.7 -
Battle Jump continues to evolve.The current version is 0.2.7 Beta.
You can take a look of the modifications provides with this version :

You could now enabled the Anisotropic filtering.
A count-down was added.
Some bugs are now fixed.
5 new blocs were added.
5 new levels were added.
Battle Jump version 0.2.5 beta -
Her's a new update, I hope you'll like it.

It's now possible to skip the introductions.
You could configure your keyboard.
Minor changes in blocs behavior.
The high scores are now encoded.
The sky is now nicer.
You could choose the color of your jumper.
Battle Jump Version 0.2 Beta -
Here's a big update:

6 new levels.
A launcher which permit to modify the options before running the game.
2 Difficulties.
Backup of the high scores .
Bugs Correction - v 0.15 -
Battle Jump's first update. This update corrects bugs related to some graphics card.

The game is now more stable.
The textures has been redraw.
There is a new option to choose the texture's level of detail.
A chronometer has been added.
A progress bar has been added.
Battle Jump 0.1 Beta -
You can finally download a Beta version of Battle Jump.
Don't hesitate to contact me if you see a bug.
Website Launchment -
Battle Jump Beta : comming soon.